Homemade Turmeric Face Mask for Rosacea
Are you looking for a homemade remedy to treat angry-looking rosacea?
In our blog 15 Surprising Treatments for Rosacea post, we recommend trying out a gentle, soothing homemade turmeric face mask to treat and neutralise rosacea.
Homemade DIY face masks are a fantastic way of treating your rosacea-inflamed skin to a natural soak of pure ingredients in their most raw form. Homemade masks are a great way of topically applying a myriad of amazing skin loving ingredients to your face. There are several reasons why a DIY mask is a great option for you and your skin:
They're incredibly simple to make, and usually contain easy-to-find ingredients that can be found in your cupboards, or your local organic supermarket. Once you've made one homemade mask, you'll know just how convenient it is!
Using pure, natural ingredients could just be what your skin needs to be free from blotches and redness. Homemade masks have not been through any factory processing or labs, and you know exactly what they contain. No parabens, no preservatives, or rosacea-triggering nasties.
They're handy if you've run out of your favourite mask and need a quick fix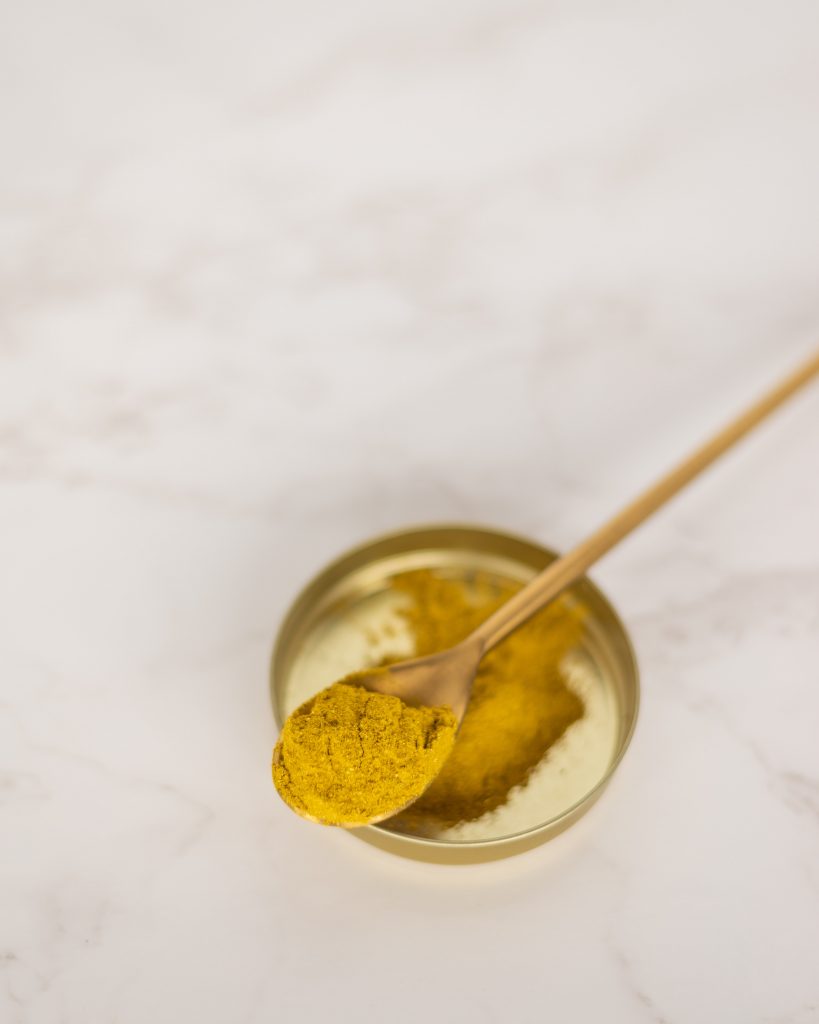 Remember
Do take care of what you apply to your inflamed rosacea!
We recommend using natural ingredients which are organic and locally sourced.
We suggest applying a homemade turmeric face mask, so your skin can get the most out of turmeric's anti-inflammatory and antioxidant natural properties through direct absorption.
Often mistaken for a type of acne, Rosacea is a redness of the skin whereby the blood vessels contract and become visible underneath the surface of the skin.
Unfortunately, the definite cause of rosacea flare ups are not certain. However, triggers tend to vary from person to person, with factors including diet, lifestyle, stress levels, cosmetic products, and even the weather.
Homemade turmeric face mask
This face mask only contains two natural and organic ingredients:
Turmeric
This beautifully calming ingredient neutralises the inflamed skin, directly reducing rosacea redness.
If not used in food, turmeric is often ingested in supplement form, which is fantastic for building healing barriers within the body. However, by applying it directly to the rosacea areas, you're really getting it's benefits from the source as it subtly soaks into the skin.
Honey
A natural moisturiser, honey will smooth over the skin and add a sweet touch of natural hydration to your skin. It also acts as a gentle exfoliator, as free radicals on the skin latch to its sticky surface, which are easily removed when you rinse the mask off.
Homemade turmeric face mask
What's even better about this homemade face mask, is that it's incredibly easy to make! (And it smells good, too…)
Ingredients
1 tsp turmeric
1 tsp organic honey
Method
Simply mix these two super-ingredients together to form a paste. Apply to the skin, paying special attention to those rosacea inflamed areas.
Leave on the skin for about 5-10 minutes, and wash off gently with warm water and a soft natural cotton pad. Be careful not to stain white items of clothing, as turmeric is very pigmented!
You might not see results after one use of the mask, so try applying it twice a week until it visibly calms your rosacea.
Remember, rosacea is brought on and encouraged by something and it doesn't just simply occur without a trigger.
Read 15 Surprising and Effective Rosacea Treatments for more!
Organic Rosacea Skin Cream by Rhoose Point Remedies
Here at Rhoose Point Remedies, we stock our own very popular treatment for rosacea.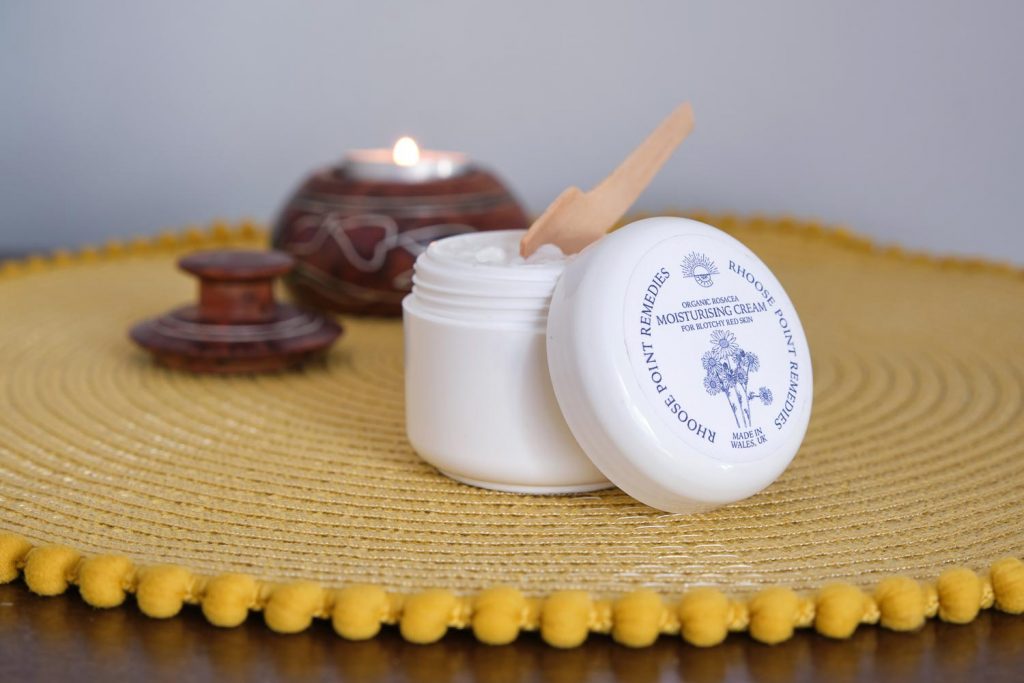 Our Organic Rosacea Skin Cream is packed with specially selected natural anti-inflammatories and soothing essential oils.
With handpicked organic ingredients like cucumber, green tea, chamomile and rosehip, this wonderful skin-loving cream gently comforts and calms angry skin.
Our in-house treatment for rosacea contains only 100% natural and organic ingredients, and contains absolutely no parabens or sulphates which have been known to cause skin irritation.