All You Need to Know About Dog Paw & Nose Balm
Note:
This article contains all the important information you need to take care of your dog's nose and paws using our specially formulated balm. 
Dogs love to be outdoors. For many dogs, outside adventures are the highlight of the day, as it gives them the perfect opportunity to get some exercise and play.
This means they are constantly using their paws and noses to explore the world around them.
Their paws and noses have an intricate anatomy, which consists of a sensitive network of tendons, ligaments, keratin, muscle and soft connective tissue. They are biologically built to withstand the outdoors. 
That being said – dog paw pads may be tough, but they're not invincible and still need routine care and protection.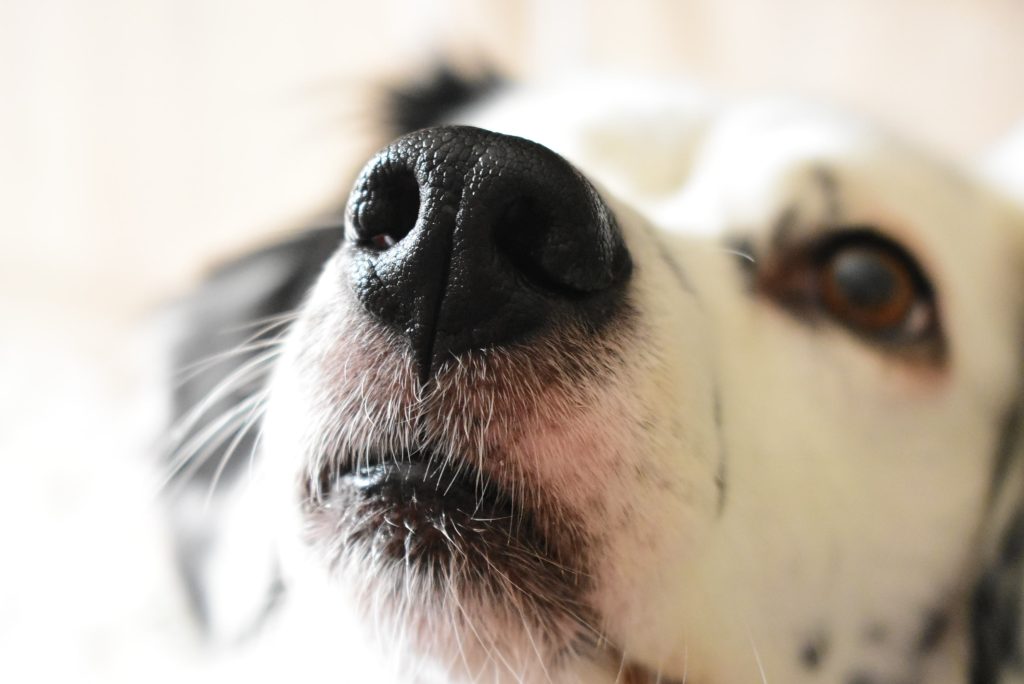 Dog paw pads are still vulnerable to damage and our canine companions are susceptible to wear and tear from time to time. There's a whole load of factors that can cause sensitivity in your dog's paws, like:
Rough terrain (gravel or rocky areas)

Sharp objects (sharp stones, and foreign objects on the ground)

Cold and harsh weather

Hot ground in the summer like tarmac paths

Frozen ground and snow

Salts and grit used on icy surfaces
Dog noses are much the same. Although they're not always on the ground in the same way their paws are, they can still become dry and cracked – especially in the colder winter months.

Using Rhoose Point Remedies Paw & Nose Balm will nourish, repair, and protect dog paw pads and noses. Our organic balm has a waxy consistency which moisturises without clogging pores. In the same way that we use lip balm to treat and nourish our chapped lips, your dog's paws and nose needs regular care and attention. 
Our balm has three main benefits for your best friend:
What is Dog Paw & Nose Balm?
The specially selected lick-safe ingredients help cracked and broken skin to repair itself with the aid of natural Vitamin E and Calendula oils
The balm forms a protective barrier between the skin and the outside, which protects the skin against the outside elements.This protective layer prevents further harm whilst allowing your dogs injuries to heal faster.
Our Paw & Nose Balm locks in moisture to the skin, soothes and nourishes broken or cracked skin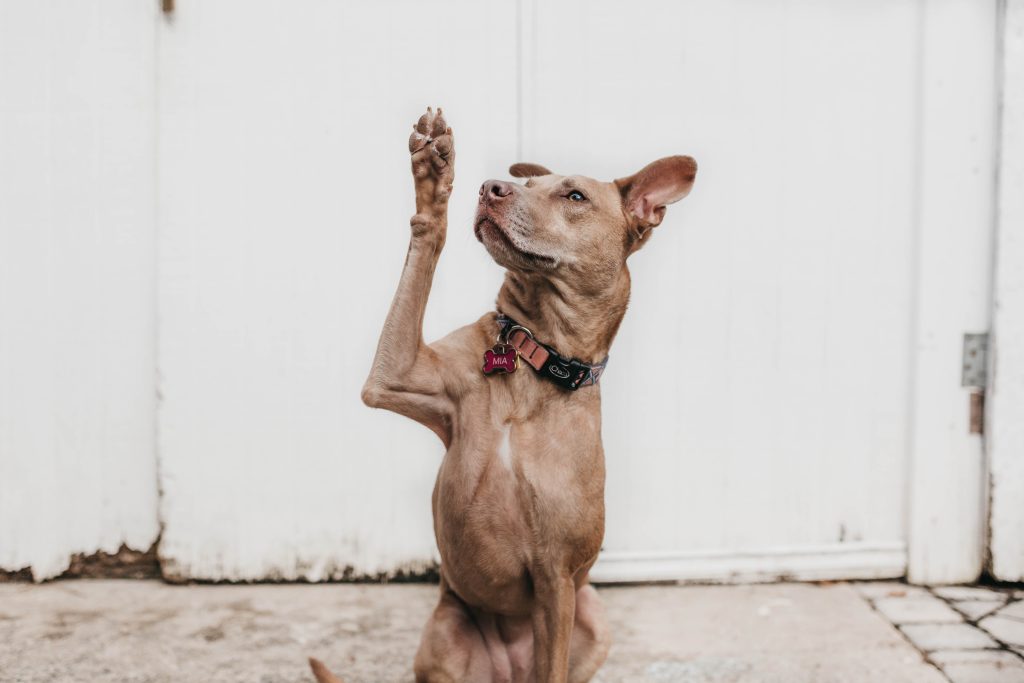 Our Dog Paw & Nose Balm is designed to treat injured paws and noses, and can be used for a variety of different purposes, such as…
Dry paws

Cracked paw pads

Dry Nose

Cracked Nose

Blisters

Skin irritation

Itchiness

Injuries from hyperkeratosis
Our balm can be an important  part of your dog's regular grooming and care routine. 
Even if your dog currently shows none of the above symptoms, our Dog Paw & Nose Balm can help prevent potential injuries in the future, keeping their skin soft, moisturised and protected.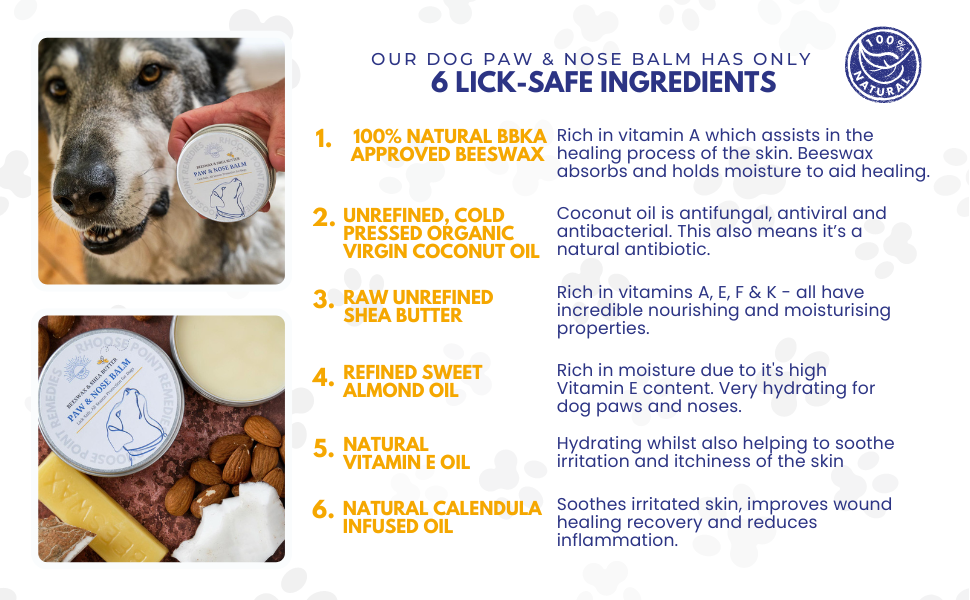 Our Nose & Paw balm is packed full of amazing natural ingredients which all work simultaneously to moisturise, heal, and protect.
These ingredients are: 
Why did we choose these ingredients?
It's really important to us that our balm is non-toxic and lick-safe.
Dogs are curious creatures, and they use their sensitive tongues to clean themselves. When they sense a different texture on their skin, they will certainly investigate using their tongues. That means we must use ingredients that are safe to ingest. 
That's why all of our ingredients are 100%…
Organic

Non-toxic

Gentle

Safe for dogs
(click the ingredients above to learn more about why we added each ingredient to our Dog Paw & Nose Balm)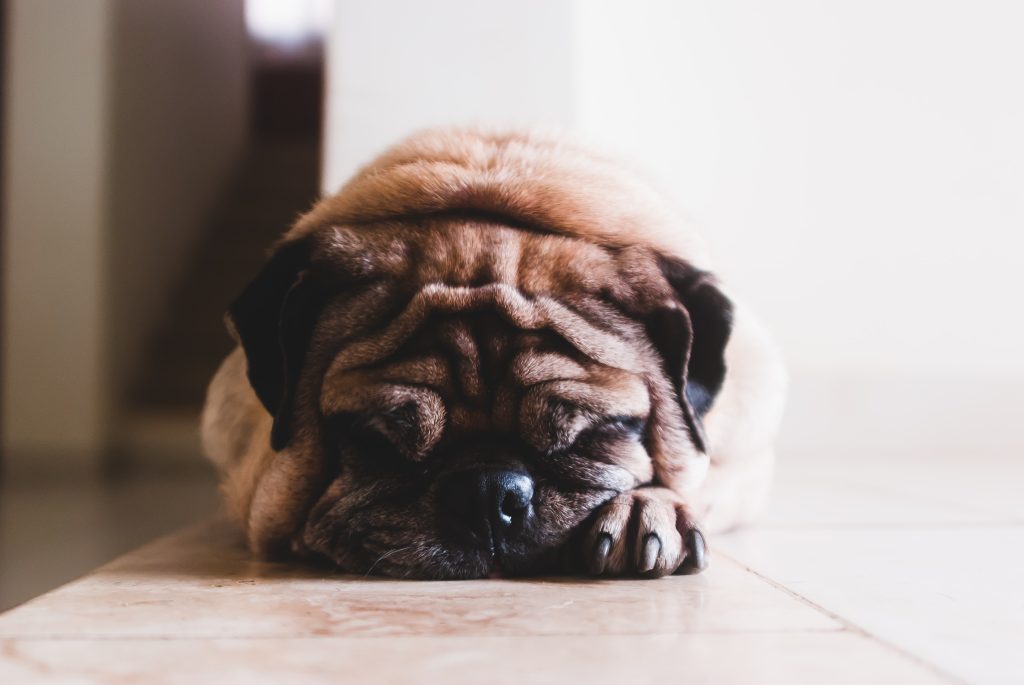 How Often Should You Apply Dog Paw & Nose Balm?
We recommend using our Dog Paw & Nose Balm in three different ways:
1. When your dog shows signs or symptoms of needing extra skin, paw and nose care such as irritated, sore skin, a dry/cracked nose or dry/cracked paws
During these times, you should apply the balm generously as often as you feel is needed. Dog owners that apply the balm to their pet's symptomatic areas have shown improvements in as little as 2 days!
2. To protect against the elements
Our Dog Paw & Nose Balm should be applied before each walk, if walking on rough terrain. 
Apply in the summer especially in the height of season when the ground can be hot as an extra barrier of protection for their paws. (Remember though, please keep your dog safe and avoid walking your dog in during the hottest parts of the day!) 
We recommend also applying on cold or icy days when the ground is sometimes covered in salty grit that can irritate your best friend's feet. Apply before your walk and on returning home, wash your dog's paws to remove harmful substances and reapply the balm as an extra protection.
3. As a regular part of your dog's grooming routine.
Dog balm does not have to only be used to heal wounds. It can also be used as a regular part of your dogs grooming routine to help prevent injuries and skin irritation from ever occurring and to help keep their skin, paws and noses in top condition 
Apply at night when your pooch is ready to settle for bed to allow the balm to soak into the paws, nose and skin.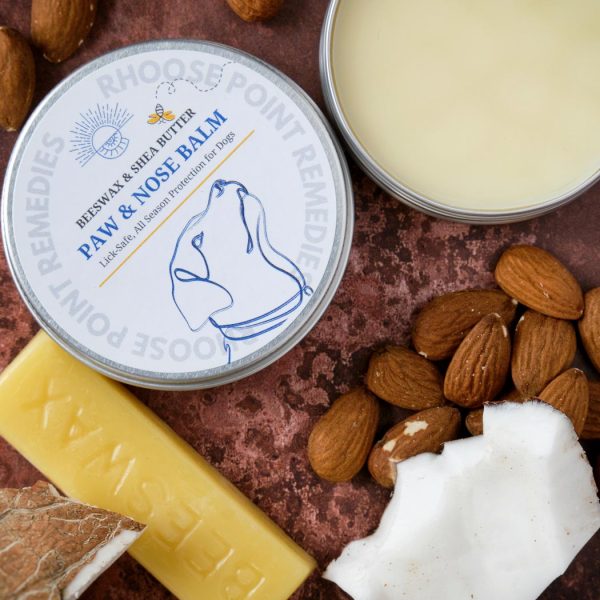 Dog Paw & Nose Balm by Rhoose Point Remedies
Our Dog Paw & Nose Balm is available to purchase now. To treat your dog to nourished skin every day, try our balm. Your dog will love it!